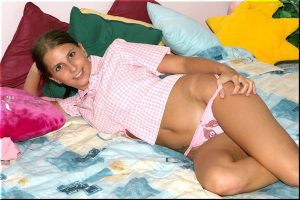 Our new and talented Desiree is one of kind. With her fresh faced "girl next door" good looks and charming personality she is sure to be hit at Phone Sex Speaks.
Desiree describes herself as both a romantic and submissive. We are sure the role play options are endless. Phone Sex Speaks interviewed Desiree and this is what she said:
You're a romantic and I must say a real sweet heart. Tell us what you consider a romantic sexual encounter?
I consider romantic as a lot of fore play and cuddling. A romantic dinner gets my juices flowing. Tentative kissing and more are the key. When you take me, you will not be sorry and I never disappoint.
You mentioned in your bio you really think a confident man is sexy, exactly what do you mean by "Confident Man"?
A confident man is strong willed and stern and very independent. He is going to take me, even if I put up a fight. A rough session in bed is a sure way to my orgasm.
Why older men?
Since we were little every girl knows an older man brings experience and maturity to love making. Knowing where to thrust so they hit our G-Spot. Also when and where to ejaculate.
Do you want your partner to completely dominate you?
Yes, but you have to know how. Its something that cant be taught. I am submissive and want to be a good slave. Maybe its being tied up and restrained, a bit of humiliation, scared and being forced to orgasm. I am most comfortable being someone's sexual property.
Do you have any fantasies you would really like to explore?
I have several fantasies I masturbate to. One of my favorites is being forced into the bathroom, sex on the toilet and in the shower. Also I think making love on the beach or the woods is a turn on.
We ask this of all our new girls. What Phone Sex speaks girl would you like to spend an evening with?
I see and have imagined being with a lot of girls on Phone Sex Speaks. Maybe a group thing with all the ladies who are submissive like me. I cant wait to meet them all.
Dial 1-800-281-2191 Or Use The Money Saving "Click 2 Call" Button To Speak With Desiree