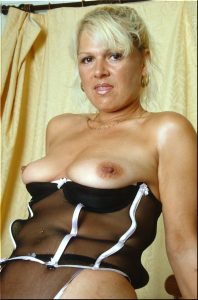 Annette is the newest of our phone sex girls. She is a grandmother, divorced and in her own words. Both a lady and a slut, but we will let you be the judge.
Phone Sex Speaks spent some time with our beautiful new blonde and found her to be straight forward. She doesn't mince words and is as sexy in person as she is on our site.
We had a few questions for this aged beauty and here is what she said:
You describe yourself as both a lady and a slut, what do you mean by that?
I love dressing up with my hair and makeup complete, looking like the sweet neighbor next door. Yet you and I both know that my naughty side is never far from the surface. So while I make look classy you can rest assured I love being slutty.
Were curious to know what kind of porn videos your friends gave you at your divorce party?
They gave me lots of different kinds, mother/son, older women with younger men, a REAL man dominating a women in a few and even some threesomes.
How many lovers have you had since you have been divorced?
Oh was I supposed to be keeping track? Silly me I lost count after 50 or so. I have had multiple men on those horny days.
Do you role play a lot and name a few favorite game you enjoy most?
I love role play especially when I get to be the slutty submissive for a real man. Something about being helpless and dependent on my orgasm from a dominant guy.
Describe the biggest cock you have had?
Finally Omg! I had a big one once I left my husband. He was 12 inches long and I swear 4 inches wide. I couldn't deep throat him, he was that big. It hurt like hell when he finally rammed it in me, but felt so fucking good. His cum load felt like a fire hose exploding. It took an entire day to drain out of me.
Any uncharted sexual waters you want to explore?
Always open to new adventure so don't be shy, share your secrets with me. I wont say no to anything.
Which Phone Sex Speaks girl do you want to spend an evening with and why?
There are so many choices, let me get together with a few and I will give you all the details.
Speak with Grandma Annette At 1-800-281-2191 Or use the Money Saving "Click 2 Call" Option Above