Dial 1-800-281-2191 To Speak With BBW Redhead Darcy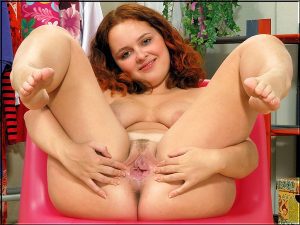 We spoke with our favorite redhead BBW Darcy a few days back. She is everything you have read and more.
Her body is perfection and her adequate pussy is just the right size and can accommodate any size cock. Here is what Darcy said:
We have to ask, does the carpet match the drapes?
Why yes the carpet does match the drapes. But I love a waxed floor better!
You seem to come from a very open minded family when it comes to sex. How has that helped your orgasm and do you feel much more in tune sexually, then your classmates?
Well, I know who I am and I am comfortable in my own skin. I have learned to let myself go and enjoy myself fully in the moment of orgasm. As for feeling more sexually in tune than my classmates, yes I think I am. I came out as bisexual my freshman year of high school and experimented with many from my girl scout troop.
What do you like best about our clients at Phone Sex Speaks?
How kinky they are! Just when I thought I have heard it all, my eyes are opened wider by an very open minded client.
What challenges do you have left on your sexual bucket list?
I have always fantasized about a gangbang. But with males and females. I love having my senses overloaded with being touched all over by different people. Never knowing who is touching you where, who is going to fuck you and how hard or with what, I love a big strap on.
When you masturbate do you have a favorite "go to" fantasy?
My "go to" fantasy is a bisexual threesome with 2 guys. An anything goes type thing. Strap on, hard cocks and many, many possibilities.
Being an unabashed bisexual, which Phone Sex speaks girl would you like to spend the night with?
Becky, hands down! I don't really think I have a type, but she is thick like I am, open minded and willing to try new things. I'm sure we could teach each other a thing or two.
Dial 1-800-281-2191 To Speak With The Young BBW Darcy Or Use The "Click 2 Call" Feature Above And Save