Dial 1-800-281-2191 To Speak With Jenni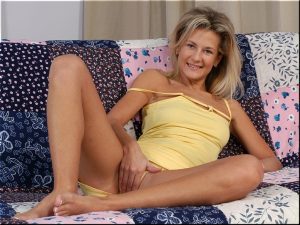 We spent some time with our high class cougar Jenni. Contrary to popular belief, Jenni is super sweet and very hospitable. Below are some highlights from our interview with her.
Jenni, You Have been with Phone Sex Speaks For long time. What do you enjoy most?
The ability to make a guy cum with just my words and my voice. Being able to fullfill fantasies discreetly for so many men and get off with them while doing it.
You did well during your divorce. What kind of man would you consider a trophy? Are there certain attributes you desire?
My divorce was the best thing that ever happened to me. It freed me up to go out and be able to explore many things sexually that I had been curious about for so long. I like barely legal boys and men in their 20's. They just have so much stamina and on top of that it's so naughty. I would love to have a young stud as a trophy. Maybe one of my son's friends that he brings home from college. He's got to be very well hung of course. I don't have any time for those small cocks. But what woman does?
How rough do you liked to be fucked?
Pin me down, preferably on my hands and knees, and just slam it in there. Over and over again. Pull my hair make me look at you as you give me the fucking that I need and deserve. Show no mercy. I can handle it.
Are you bisexual and which girl at Phone Sex Speaks would you like to spend a day with and why?
I am very bisexual. There are so many girls on the site that are so desirable that this is a hard question. I'm going to go with Ruby. I love young girls and I have a real thing for redheads. She'd be fun to share a couple of cocks with because she's just such an eager little slut.
What is your "go to" masturbation fantasy?
Naughty mommy. I love the thought of being the dirty mommy in the neighborhood that all the boys lust over. The thought of a few even coming to me to help with their first sexual experience just gets my motor running.
We know how wet you get. When did your pussy really start squirting?
Early teens. Around 14. I discovered that if I hit my g-spot inside with my dildo and rubbed my clit that I just had the most intense orgasms. I was squirting and gushing everywhere!
What is your favorite position and why?
Hands and knees, ass up in the air. I think a cock goes in the deepest that way and I love feeling completely stuffed full when I'm getting fucked. I like to really feel it in every possible way.
Dial 1-800-281-2191 To Speak With Jenni Or Use The Money Saving "Click 2 Call" Feature Above.