Call Shemale Terri At 1-800-281-2191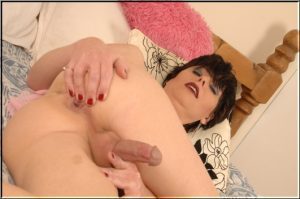 Awhile back I had the most interesting encounter, but first a little about me. I am bisexual and enjoy both women and men. I just prefer to pass as a female. The last few years I have dated a lot of ladies who are straight, married and looking to quench a need.
My fantasy is to be with a husband and wife. There has to be a lot of couples wanting a weekend with a passable female for the husband. Who can then give the extra dick a wife craves all the time.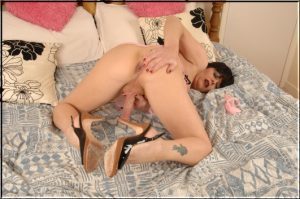 My neighbor Jacob who is married to the lovely Tabitha enjoys a little small talk across the fence. He knows I have a dick, but always treats me like a lady. Lately my talks with Jacob have become more personal and almost sexual. Finally he just said it. "I want you and Tabitha does too" Jacob whispered.
Interesting, I thought as I excused myself to hide a very fresh erection. After I "calmed down", I called Tabitha. Whose a 30 something pear shaped beauty with breasts to match. I asked her if it was true what Jacob said? She told me it has been a fantasy they have shared for years. Since we are neighbors Tabitha confessed I was a part of her sex paly already. Intrigued and in love with the idea, I agreed. We set the date for their house for the weekend. That way the kids would be at the grandparents house.
The Big Day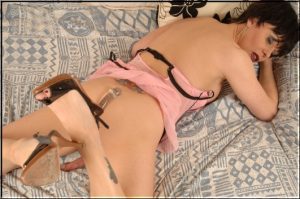 Finally Friday had arrived and I was nervous as can be. After all, we are neighbors. I put on a matching lace black bra and panties, a short, black party dress and patent black heels. One more look in the mirror and I knew I looked hot.
I walked over and they let me in. Jacob was dressed casual in a polo shirt and slacks that showed every muscle. Including his nice ass. Tabitha was dressed a short sundress that would make any man hard.
We sat down for dinner and had a real pleasant meal followed by drinks in the living room. After a little talk I walked right over to Jacob, sat on his lap and we started making out. I could feel his dick grow and I was surprised how big it was. Out of the corner of my I could see Tabitha with her hand between her legs. She eventually came over, lifted my dress, slipped my hard dick out of my panties and gave me a great blow job. Better then any guy who has ever sucked mine.
Cuckold Clean Up Needed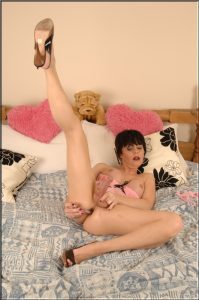 We found our way to the bedroom where Tabitha ordered Jacob to sit on a stool and to not touch himself. Tabitha undressed and got on the bed and said; "Terri, please fuck me hard." Her voice trembled. Tabitha was already on the verge of climax. I positioned her doggy style so Jacob could see every stroke of my cock.
I went right to work and it only took a minute. Tabitha was in the throws of multiple orgasms and they felt awesome as my dick struggled to penetrate her spastic pussy. Finally she begged me to cum in her. I obliged and the second I pulled out Jacob was giving her a cuckold cleanup.
A lot happened that weekend and I could literally write a book. I promise to write more about that fantastic weekend very soon. You call me anytime and we can share some of your favorite fantasies. I never judge and your kinky secrets are safe with me.
Call 1-800-281-2191 To Speak With Shemale Terri Or Use The Money Saving "Click 2 Call" Feature Above